Sorotan24.com, Jakarta – Mantan personil grup idol K-pop 2NE1 Lee Chae-rin akan segera merilis lagu barunya. CL sapaan akrabnya mengumumkan rencananya tersebut dalam beberapa unggahan di akun instagramnya @chaelincl, Jumat (11/9/2020).
Musisi sekaligus rapper tersebut mengunggah gambar teaser siluet dengan tulisan 'Post Up'. Diketahui CL turut terlibat dalam penulisan lirik lagu terbarunya yang bakal dirilis pada 14 September pukul 13.00 KST.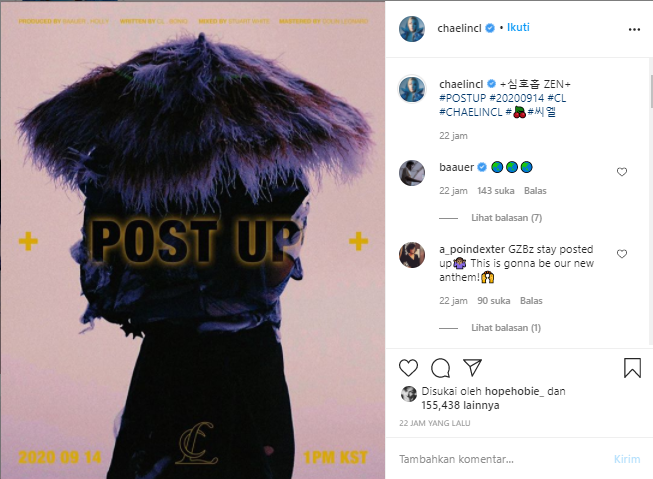 Sumber foto: Instagram/chaelincl
Sejak 2 September, CL telah mengunggah enam video teaser. Salah satunya adalah teaser yang menyatakan 2NE1 merupakan sebuah berkat yang ia terima di masa lalu.
"+2NE1 my past my fourever blessing+" #INTRO3 #CL #CHAELINCL #🍒#씨엘, tulisnya pada salah satu unggahan video teasernya.
Jelang akhir tahun lalu, CL resmi keluar dari YG Entertainment. Setelah sebelumnya memperpanjang kontraknya bersama Sandara Park.
CL debut dalam idol grup K-pop 2NE1 bersama Park Bom, Sandara Park, dan Minzy. 2NE1 yang bernanung di agensi YG Entertainment tersebut. Mereka juga menjadi salah satu girlband generasi kedua terbesar di Korea Selatan.
Terakhir, Lee Chae-rin merilis album nya yang bertajuk 'In The Name Of Love' pada akhir tahun 2019 lalu.